Do you hate carrying keys? Maybe you don't like the irritating sound they produce in your pocket, or you're looking for a safer, more fashionable and convenient way to lock your door?
Then you might want to invest in digital door locks which is the popular HDB & main door locks in Singapore. Digital door locks are not only stronger and safer, but they also accord you lots of conveniences, thanks to their numerous valuable features.
What is a Digital Door Lock?
A digital door lock is a way to replace keys or to add more automation for your main door, such as remote locking and unlocking. Digital door lock Singapore provides an affordable, easy to install security solution for residential and commercial buildings that need a reliable means of access control, but where the allocation of keys and cards is impractical.
These types of door locks have components known as "actuators," which link the locking bolt or cylinder to a small motor embedded in the door or doorframe. The motor is controlled by an electronic impulse that may be activated in several ways:
By a wireless remote control
By a keypad
By an electronic card reader
Our Review For Top Rated Products
There is a wide selection of digital door lock Singapore brands today, and it can be quite challenging to choose the right one for your needs. Here's a look at the top 11 digital locks from 6 digital lock Singapore brands that you can choose from:
Samsung Digital Door Locks
Samsung produces a wide range of electronic products, including a considerable array of residential security systems. The Samsung digital door locks are impressive, and they're designed to meet everyone's specific needs with their various access options.
Notable features of Samsung digital locks include:
Automatic locking – This feature eliminates the call to re-check for the Samsung digital clock when you're leaving your premises.
Intrusion prevention – You can't unlock the doors even if the OPEN/CLOSE button is pressed inside unless the sensor detects inside movement.
Auto-polling – RF card or key tag is verified automatically for entry without the call to key the wake-up button.
Override mechanical keys – You can use mechanical keys in case fingerprint, password, or card fails to work.
Broad touch screen – this gives Samsung digital door lock design a modern and fashionable flair. It also provides a sophisticated touch experience while entering the password.
This Samsung digital lock also offers the Push-Pull door lock that DP-728 offers. It has fingerprint recognition and a Smartphone app service for modern living with a modern lock.
You can even check the access to your house to see who went in and out.
Key features we love:
Aesthetic
Ergonomic
Unlock with Smartphone
In / Out Log Record
It also offers AES-128 encryption, providing a secure app and prevents hackings from happening.   As added security, it also has an Anti-theft setup to prevent intruders from going near your place.
You can buy this online here.
This lock is on the cheaper side but still does the job well. It offers PIN and card access and had automatic and manual door lock mode.
Key features we love:
Dual security
Secure Magic Number
Stylish slim and glossy design
Easy to setup
You can also customise the unlock tone to your liking if you want a more personal touch on your digital lock.
Buy this digital lock here.
This unit is the first Push and Pull model of an electric door lock. It's authentication methods includes Bluetooth, Fingerprint, RFID card and Passcode. It also has a motion detector via an IR sensor that can detect suspicious movements around the area.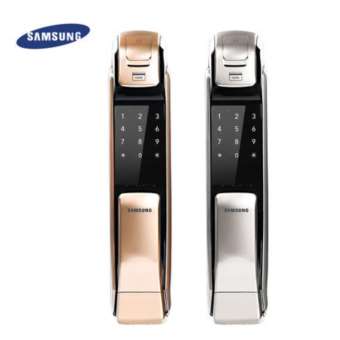 It also automatically wakes up when it detects motion. You can even use your handphone to lock the door using blue tooth instantly.
Key features we love:
Integrated with Bluetooth & Mobile App – sHome Doorlock
User-friendly instruction display
Access by Fingerprint / RFID Card /Pin Code / Override Key
Safe and robust design to withstand forced entry
Buy a Samsung digital lock today.
The Samsung SHP-DR708 is a premium digital door lock with SMART IoT and built-in WiFi with IMDA approval. It supports five different types of authentications which include NFC, number pad, smartphone app, mechanical key and fingerprint.
It equipped with an IR sensor to detect any suspicious movements for a continued of time; the door will sound a warning siren. Any attempted force of entry will trigger the alarm immediately.
Dubbed as Samsung's most advanced digital lock, which is WiFi IoT Enabled. It also comes with a regular visitor easy access for more convenient entry of your usual, expected guests.
Key Features:
App-enabled security control
Multiple entry access (mobile, fingerprint, mechanical, pin code)
Up to 100 fingerprints capacity
Best battery Life
This lock basically has everything that you are looking for in a digital lock, especially the easy visitor pass and remote access control.
Buy it at its best price here.
Easy-install and sleek digital lock that fits any home design. It comes with an auto-lock and double lock feature for your security.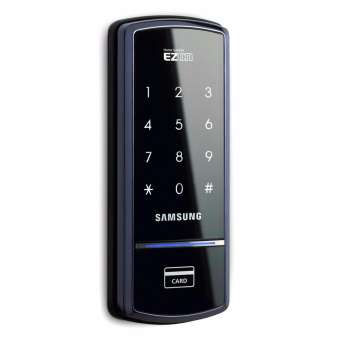 Key features:
Double authentication mode with password and RF card
Anti-theft Mode
Keypad volume control
Luxury design
One of the best security features of this digital door lock is the random security code, which prevents theft from figuring out your passcode through fingerprints. The number pad is randomised every time so there will be no consistent trace of your fingerprint.
Get this smart lock here.
Yale Digital Locks
Yale is one of the oldest global brands as well as one of the most popular names in the world of locks. Millions of Yale locks are used worldwide. Yale digital door locks are designed to blend harmoniously into your digital residence and provide a significant improvement in security.
Some of the notable attributes of Yale digital door locks include:
Irradiated keypad and touchscreen for nighttime access
Low power consumption
Battery and wireless operated
Your settings and codes remain the same even after changing batteries
Ideal for all standard exterior and interior doors
Easy to program and change the 4-12 digit PIN code
Temporary PIN code for guests. You don't have to reveal your household PIN code
Rigorously tried and tested, a Yale digital lock is a foolproof way to secure your property. This digital lock Singapore brand is available in simple, classic, vandal proof keypad, or hardwearing touchscreen.
Aside from PIN, this lock offers a fingerprint scanner to access the door. It also added some extra measures when it comes to security.
Key features we love:
Voice Guide
Anti-panic egress with Safe handle
Scramble code
Alarm (Break / Damage)
With its scramble code feature, you can assign random numbers before or after the correct PIN code to reduce the chances of exposing the right code to other people.
It also requires the user to complete the opening of the door by touching the palm on the keypad after entering the password to remove the residual fingerprints.
Grab your Yale Biometric Digital Door Lock here.
Imagine having security of a deadbolt, except its more automated and reliable. This is what this unique deadbolt digital door lock offers.
Key features:
RFID card
Touch keypad
Auto-lock and double lock
Emergency power and low battery notification
For an added security feature, it comes with an intrusion alarm, which is activated when someone is forcibly removing the lock or opening the door. Security and peace of mind at your fingertips.
Get this digital deadbolt lock here.
This digital lock from Yale offers two ways of opening your door, via a PIN code or through a proximity card key.
The touchpad can only be seen when the owner touches the screen with the palm. It also offers an automatic lock system once the door is locked correctly.
It also alarms if there is an attempt to break or damage the lock. If PIN and card are not enough for you, you can also use the optional remote control that can work up to 50 meters.
Key features we love:
Low battery and emergency power
Missing key invalidation
Operation status notification
Smart Touchpad
Get your own digital door lock here.
This lock as three modes, PIN code, RF card, and Mechanical Key. It also has emergency power in case the blackout happens.
Key features we love:
3 in 1 Access Lock (PIN, RF Card & Mechanical Key
Mechanical key override
Anti-Panic egress
Specially made for bedrooms, especially when you have confidential and sensitive documents hidden. This lock also offers an anti-panic escape for emergencies.
Buy this bedroom-designed digital lock here.
Gateman Digital Locks
This electronic lock Singapore brand is Korea's number one digital lock brand regarding sales, brand power, quality index, and customer satisfaction. The brand provides a wide range of innovative products that are geared to ensure a safe and convenient lifestyle for home and business owners across the globe.
Some of the best-selling Gateman digital locks include:
Gateman IREVO F10 Fingerprint Digital Door Lock
Gateman V100 Card Mortise Digital Lock
Gateman WF10 Digital Lock
iREVO Gateman WF20 Fingerprint Digital Door Lock
Gateman G-swipe Smart Digital Lock offers two-way authentication method on which you can open the door using a fingerprint or PIN code.
It also provides the 3-minute lock function that suspense the keypad for three minutes after five consecutive failed attempts.
Key features we love:
Fingerprint and User Pin Convenience
Solid Metal Built- Heavy Duty Security
Auto-Lock when leaving the house, close door and walk on
This lock can also self-diagnose so you can be informed if malfunctions occur. This lock also offers prevention of the residual fingerprint images to avoid the exposure of the PIN.
You can now get this lock here today.
Get this digital door lock for more advanced security settings. This is popularly used in high-end household and properties.
It is packed with the following features:
Sleek design
Suitable as gate lock
Multiple access (tag card, biometric, and pin code)
Auto-lock
The sleek and slender design makes it a subtle addition to your house. It looks elegant enough, but the security features still work hard for you and your family.
Buy this top-selling lock here.
Schlage Digital Locks
For close to a century, Schlage has been known to create one of the strongest and most technologically advanced security systems for residential, commercial, and institutional buildings. When your property or personal security is at stake, you can expect Schlage to provide comprehensive protection with their wide range of robust electronic door locks, such as Schlage Sense Smart Deadbolt, Schlage Connect Touchscreen Deadbolt, and Schlage Touch Keyless Touchscreen Deadbolt.
This lock is user-friendly and very easy to program. It can store up to one hundred fingerprints and then PIN codes. It can also auto-relock if it detects that it has been left unlocked for a period of time.
Key features we love:
Enhanced Security
Exceptional Convenience
Weather Resistant
It also has a built-in alarm system that senses force entry. In case of emergencies, the door can also be unlocked inside by rotating the lever inside.
Secure your home and buy this door lock today.
This lock offers up to ten different user PIN codes. You can even have temporary access codes for guests of your house. It also provides two ways of access, via the keypad or card.
Key features we love:
Emergency warning system
Panic release handle method
One-touch etiquette (Silent)
Battery residual identification & Replacement time alarm function
Schlage S-480 Digital Door Lock has a built-in alarm in case there is an attempt of forced entry. Aesthetically, the lock looks smooth and lustrous, giving your home a delicate touch.
You can buy this digital lock here today.
Loghome Digital Locks
This electronic door lock Singapore brand holds a reputation for building their locks on the basis of security and reliability. Loghome electronic locks are designed to work on any doors, whether flush, steel, or wooden doors.
The locks come with a two-year full on-site warranty. Besides providing a great sense of assurance for the security of your home, they are also stylish, user-friendly, and convenient.
Loghome LH600MG Digital Door Lock is specially designed for metal gates. The passwords can be as short as three digits or as long as nineteen digits. It also has an alarm when it detects a force open.
Key features we love:
360-degree Fingerprint Access (max. 100)
Built-in fire detection sensor / alarm
Emergency power terminal of 9V battery
Theft & prank prevention (1 min stoppage after 5 consecutive wrong input)
Aside from that, it also has a built-in fire detection sensor and alarm. And for emergencies, there is a mechanical overriding key.
Get yours now here.
Zeus Digital Door Lock
One of the top digital door lock brand in Korea, this lock excels in brand power, quality index, and customer satisfaction. Your password can be as short as four digits or as long as 10 digits.
Key features we love:
4-10 digit password
Register up to 50 RFIDs
Tap RFID card and unlock feature
It can also register fifty RFID, which can just be tapped to unlock, which is convenient as you no longer have to activate the RFID sensor.
Upgrade your door lock with this new Zeus digital lock.
What are the Benefits of Using a Digital Door Lock?
There are numerous benefits to using a digital door lock, including:
Enhanced security – Digital door lock Singapore products are pick proof, and hence much more difficult to break into compared to conventional door locks.
Improved convenience – You don't need to carry a bulky set of keys or worry about misplacing or losing your keys.
User-friendly – Using your fingerprint, entering a pin code, or using an RFID card are convenient ways to open/close the door, particularly for kids, the elderly, and the disabled.
Easy access control – You don't have to duplicate or pass a key to your friends, relatives, or part-time house help for them to access your house. You can simply provide a provisional access code.
Stylish outlook – Digital locks usually look more appealing and elegant, thanks to their sleek and seamless surfaces.
Type of Digital Locks
There are four common types of digital locks that suppliers offer:
One is the Card and RFID locks that don't have much difference with the traditional key lock. But tapping a card on the door lock is still much easier than trying to get a key into a keyhole, especially when you are carrying a lot of stuff. Most of the time, these types of locks are used in the offices rather than at home.
Another is a Bluetooth lock that needs a blue-tooth enabled phone to unlock. These are usually app-based and connects and syncs to the Bluetooth device
One digital lock that is gaining popularity is the biometric lock that uses your fingerprint to unlock, making it almost impossible to be locked out of your own home.
The most famous type is the passcode enabled locks, in which you can set a password to open the door. It gained its popularity because it's easier to set up and more affordable than the other types.
Should I Get a Digital Door Lock?
You can't get a more reliable device than a digital door lock when it comes to upholding the security of your residential or commercial premises. With digital door locks, you don't need to worry about misplacing or losing your keys. They provide unmatched convenience and hence are a worthy investment.
Digital locks are convenient and perfect for any time of the home. Never again will you think if you have locked the door or not, your digital lock will remind and even do that for you. You don't even need to worry about leaving your keys and locking yourself out.
Digital locks even give you additional security for your home. It alerts you when someone is trying to force their way into your home, and some also have fire detectors for extra safety measure.
Buy the Best Lock from Us
We are the leading digital door lock Singapore dealer. We specialize in the top digital and electronic lock brands like Yale, Samsung, Schlage, Loghome, and Gateman. We have a wide range of digital lock models, and you can rest assured you get only the best and genuine locks manufactured specifically for the Singapore market.
Get in touch with us today and secure your property with the world's best digital door lock.
Read on Malaysia digital door lock here.
FAQ
What is a Digital Door Lock? 🔒
Digital locks are locks that don't need keys to unlock. Instead, it uses keypads, smart cards or biometrics for easy access.
What are the Benefits of Using a Digital Lock? 😌
Digital door locks offer fast access when going inside and out of a room, especially for offices where people would always enter a place.
Should I Get a Digital Door Lock?
For houses and offices, the digital door lock is recommended. It provides additional security for a room while also giving more convenience that key doors can't provide
What are the popular digital door locks in Singapore? 🇸🇬
For Singapore, Yale and Samsung have been the front runners when it comes to digital door locks.