Samsung is one of the leading manufacturers of digital door locks. While there are many digital door lock brands in the Malaysia market, none comes close to beating Samsung regarding popularity and demand. You can credit that to the fact that Samsung digital locks boast superior design, reliability, and functionality.
As we are advancing in technology more and more, in this modern time security should be a top priority like, for example, securing our assets and physical belongings. This modern technology is catching up with Malaysians who are investing in building modern apartments and homes. Due to this, it has now changed the future of building technology and made it easier for people to use this digital technology.
Samsung provides a range of digital door locks that are specifically designed to meet the needs of residential and commercial buildings in Malaysia. These locks are equipped with various features to ensure maximum security and convenience, including Bluetooth functionality and a mechanical override key.
There's a wide selection of Malaysia digital door lock products, including their Push Pull Door Lock, to choose from, and we're going to look at some of the best options.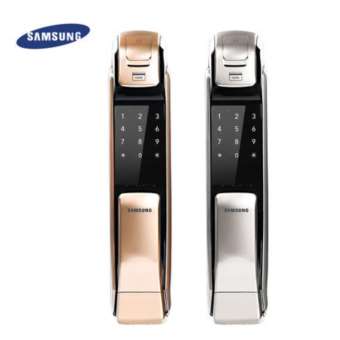 The Samsung SHP-DP728 makes it easy to grant controlled access to your friends, loved ones, and associates as it can accommodate up to 100 fingerprints and up to 30 RFID cards or PIN codes.
If its three access options – PIN, Fingerprint, and RFID card – fail, you can use the mechanical master key. What's more, this digital door lock is equipped with a 70-cm range motion detector. It's a PUSH PULL door lock, which makes it easy to operate.
This kind of lock is manufactured by tech giants Samsung and contains features suitable for you, with this one you can open and shut doors straight from your mobile, they include;
Getting notifications on your phone
Bluetooth enabled.
Manual key access
Push and pull mechanism
In case of an emergency, however, it has a push and pull mechanism that serves that purpose. You can purchase these locks from Samsung outlets.
What makes the Samsung SHS-2920 stand out from its competitors is that it is equipped with a heat sensor and a burglar alert to enhance security. This door lock features a slim tactile keypad.  It allows you to obtain access using RFID card or password. It also has double verification and auto-locking functionalities.
Highly responsive door sensor. Offers card, touch, or pin access. One easy entry with a push-pull feature.
Other Features:
Dual security and welcome function
Fast RF Detection
Slim and Glossy Design
One-touch security
This lock is on the cheaper side but still does the job well. It offers PIN and card access and had automatic and manual door lock mode. You can also customise the unlock tone to your liking if you want a more personal touch on your digital lock.
Get this digital door lock here
The Samsung SHP-DP738 is the latest model of PUSH-PULL digital door lock with a better fingerprint recognition with IMDA approval. It supports four different types of authentications to unlock using the smartphone app, number pad, mechanical key and fingerprint. You can easily unlock your door with your smartphone for your guest anyway.
It also provides a built-in sensor to detect abnormal high temperature which will trigger the alarm and flashing light at door lock to alert everyone. The lock will automatically unlock to speed up the escape from fire.
Premium lock design that does not compete with the overall aesthetics of your house. You can choose between access via your phone or the traditional password method.
Key Features:
Smart access: mobile phone, fingerprint, mechanical, and pin code
AES-128 Encryption
Highly responsive sensor
Push/pull design
Enjoy peace of mind with this trusted Samsung digital lock that is also hacker-proof.
You can buy this lock here.
This Smart Deadbolt Lock is one of the newest entrants in the world of digital deadbolt locks. It allows you to register up to 100 users each with their PIN numbers or RFID key tags.
The company has created a variety of digital door locks that you cannot fail to use, such as opening and closing of the door from your gadget. The features are;
Phone notifications.
Use of manual key
Bluetooth enabled
Push and pull mechanism
An emergency setting is also installed and easy to use in case of an emergency arising.
This digital door lock series is guaranteed to be hazard-free, as it was made and design using harmless substances. It is a family-friendly, and even comes with a silent mode feature for a more peaceful stay.
Key features:
Magic number dual security
Welcome function
Battery notification
High-temperature sensory function
This lock was made not just with safety in mind; it also prioritises the convenience and east of its owners, providing you with the peace of mind that you need most in your own home.
Purchase your own Samsung digital lock here.
The Samsung SHP-DR708 is a premium digital door lock with SMART IoT and built-in WiFi with IMDA approval. It supports five different types of authentications which include NFC, number pad, smartphone app, mechanical key and fingerprint.
With this model, it has a wide range of features, including registration up to 100 fingerprints. The other features include;
Phone notifications
Push and pull mechanism
Use of manual key
Bluetooth usage
In the case of an emergency, the push and pull mechanical setting is put in place for easy access. You can purchase this kind of lock-in Samsung outlets.
The Benefits Of Samsung Digital Door Locks Compared To Others
Samsung digital locks are constructed with sophisticated technology, which puts them ahead of other popular digital lock solutions. With features such as fingerprint recognition, built-in Bluetooth unlock function and cutting edge design, Samsung digital locks create an unmatched level of reliability and trust among users. That's the primary reason why this brand of digital locks enjoys a considerable demand in Malaysia.
Moreover, every Samsung Digital Door Lock is subjected to rigorous safety and quality certification tests against electric shocks, fire, and other risks. With a surge-resistant circuit design, fire detection capability, and a manual access feature in case all other access options fail, these door locks can survive virtually any situation. Find out more here.
History of Samsung Digital Lock
Samsung has been a staple name in technology and innovation. Digital locks have been one of their leading products not just in Asia, but worldwide, as well. Throughout the years, the company has managed to come up with sophisticated digital lock products, which have likewise been a massive hit in Malaysia. Samsung digital locks are all about seamless access, intrusion proof, and easy installation.
There is also no need to worry about dual locks because Samsung digital locks readily come with a dual lock function.
In recent years, the company has also launched its remote control, security, and access feature, aided with the advent of smartphones.
Buy the best Samsung digital door lock from Lazada Malaysia
We offering a wide range of tried and tested models of the world's leading brand of digital locks. Get in touch with us today, and get a digital lock that is tailored to your specific needs.
Our Top Recommendations:
FAQs
What are the popular Samsung digital door locks in Malaysia? 🇲🇾
Samsung SHS-DP728 Digital Lock and Samsung SHP-DP708 Digital Door Lock have been famous in Singapore. They offer top-notch security and state of the art technology.
What is The Benefits Of Samsung Digital Door Locks Compared To Others? 😌
They offer sophisticated technology and has rigorous quality and safety certification tests that provide not only top-notch products but also secure ones.
Should I Get a Digital Door Lock?
For houses and offices, the digital door lock is recommended. It provides additional security for a room while also giving more convenience that key doors can't provide