Do you hate carrying keys? Maybe you don't like the irritating sound they produce in your pocket, or you're looking for a safer, more fashionable and convenient way to lock your door?
As we are advancing in technology more and more, in this modern time security should be a top priority like, for example, securing our assets and physical belongings. This modern technology is catching up with Malaysians who are investing in building modern apartments and homes. Due to this, it has now changed the future of building technology and made it easier for people to use this digital technology.
Below are some of the best 12 Malaysia digital door locks that are available in the Malaysian market for sale and their features based on price, fixing and installation features, and finally, the security features they contain.
The Samsung SHP-DP728 makes it easy to grant controlled access to your friends, loved ones, and associates as it can accommodate up to 100 fingerprints and up to 30 RFID cards or PIN codes.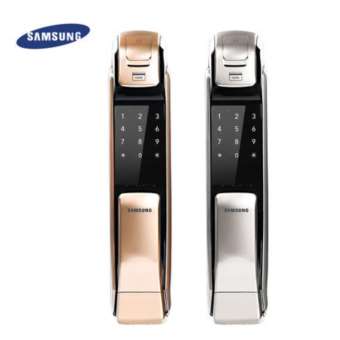 If its three access options – PIN, Fingerprint, and RFID card – fail, you can use the mechanical master key. What's more, this digital door lock is equipped with a 70-cm range motion detector. It's a PUSH PULL door lock, which makes it easy to operate.
This kind of lock is manufactured by tech giants Samsung and contains features suitable for you, with this one you can open and shut doors straight from your mobile, they include;
Getting notifications on your phone
Bluetooth enabled.
Manual key access
Push and pull mechanism
In case of an emergency, however, it has a push and pull mechanism that serves that purpose. You can purchase these locks from Samsung outlets.
This one comes with an all in one package with details of installation included. It also consists of chat support that will guide in your installation and fixing process. the features include;
Access to use a card
Use of fingerprint
Use of manual key
Password accessible
Due to the easy usage of this lock, you should get one while stocks last.
However, in cases of emergency, it has a push and pulls mechanism knob fixed for that purpose. We highly advise you to buy this kind of lock.
This specific lock is the best digital lock from this company.
The features of this lock include;
Fake Pin Code.
Mechanical Override.
Multiple access points.
Use of remote control via a dedicated Yale app.
By purchasing this type of lock, it guarantees your safety in your home and personal belongings.
The Samsung SHP-DP738 is the latest model of PUSH-PULL digital door lock with a better fingerprint recognition with IMDA approval. It supports four different types of authentications to unlock using the smartphone app, number pad, mechanical key and fingerprint. You can easily unlock your door with your smartphone for your guest anyway.
It also provides a built-in sensor to detect abnormal high temperature which will trigger the alarm and flashing light at door lock to alert everyone. The lock will automatically unlock to speed up the escape from fire.
Premium lock design that does not compete with the overall aesthetics of your house. You can choose between access via your phone or the traditional password method.
Key Features:
Smart access: mobile phone, fingerprint, mechanical, and pin code
AES-128 Encryption
Highly responsive sensor
Push/pull design
Enjoy peace of mind with this trusted Samsung digital lock that is also hacker-proof.
You can buy this lock here.
This is a small and slim lock that is not expensive. Due to its small size, it can be fixed in small doors.
Its features include;
Anti-panic handle and emergency key
Easy knobs to adjust volume
Double lock, Auto Cover Authentication
Easy to use at night.
The lock also has more optional features such as; pin and fingerprint locks. In case you need to get more information and assistance, there are many centers where you can get them in Malaysia.
In case for a smaller and more reliable digital lock, you do not need to look further than this since this lock contains a 25 deadbolt ensuring more security.
Its features include;
One Time -Pin Facility.
It does not require internet access.
Mobile App-Enabled.
It has a moderate price tag on it, and you can enjoy the various methods to open it with your family members.
The company has created a variety of digital door locks that you cannot fail to use, such as opening and closing of the door from your gadget. The features are;
Phone notifications.
Use of manual key
Bluetooth enabled
Push and pull mechanism
An emergency setting is also installed and easy to use in case of an emergency arising.
This is a one of a kind lock that comes with durability to withstand disasters, it also has got a classy look and the best there is in the market. Its features include;
Anti- theft/ Anti hack.
Protection from hackers.
Multiple access points.
Auto-lock and relock.
It comes at a suitable price and easy to use at all times.
The Samsung SHP-DR708 is a premium digital door lock with SMART IoT and built-in WiFi with IMDA approval. It supports five different types of authentications which include NFC, number pad, smartphone app, mechanical key and fingerprint.
With this model, it has a wide range of features, including registration up to 100 fingerprints. The other features include;
Phone notifications
Push and pull mechanism
Use of manual key
Bluetooth usage
In the case of an emergency, the push and pull mechanical setting is put in place for easy access. You can purchase this kind of lock-in Samsung outlets.
It has got a stunning appearance, this kind of lock enables you to add more than one security layer, and therefore more suitable in buildings with multiple people using it.
The main features include;
Emergency power supply.
virtual key for an unlimited number of guests
Getting notifications on your family member's access.
Ability to smart open and touch
You will discover that setting up the lock is easy and is commonly used by guys who are more advanced in technology matters.
With this one, you can get to choose in between two colors, silver or bronze. However, you also savor using keyless entry into your house. Its features are;
LED Backlight.
Remote monitoring of entry logs via mobile phone
Multi-user access management.
This specific lock has a suitable price tag and durable since it comes with a stainless steel body to withstand disasters.
Enjoy ready installation services when you buy this digital lock online. It is packed with all the features you love for a smart lock system, so you are guaranteed with utmost security whether you are in your home or leaving it.
Multi-user access management
Remote monitoring of entry logs via mobile phone
LED Backlight
Its stainless-steel body creates a durable case for your digital lock. You can buy this here at its best price.
What is a Digital Door Lock?
A digital door lock is a way to replace keys or to add more automation for your main door, such as remote locking and unlocking. Digital door lock provides an affordable, easy to install security solution for residential and commercial buildings that need a reliable means of access control, but where the allocation of keys and cards is impractical.
These types of door locks have components known as "actuators," which link the locking bolt or cylinder to a small motor embedded in the door or doorframe. The motor is controlled by an electronic impulse that may be activated in several ways:
By a wireless remote control
By a keypad
By an electronic card reader
Advantages of Digital Door Lock
Apart from its aesthetic value, the digital lock provides high security for your property. It is basically like your manual lock system, except you get to add added layers of security before entry. This also solves the problem of being locked out because of missing keys.
Most of these locks are made of deadbolt types that are the best type and sort after locks. However, due to this aspect, many commercial and private properties are now using them. This is because they are the best and most secure.
There are numerous benefits to using a digital door lock, including:
Enhanced security – Digital door lock Singapore products are pick proof, and hence much more difficult to break into compared to conventional door locks.
Improved convenience – You don't need to carry a bulky set of keys or worry about misplacing or losing your keys.
User-friendly – Using your fingerprint, entering a pin code, or using an RFID card are convenient ways to open/close the door, particularly for kids, the elderly, and the disabled.
Easy access control – You don't have to duplicate or pass a key to your friends, relatives, or part-time house help for them to access your house. You can simply provide a provisional access code.
Stylish outlook – Digital locks usually look more appealing and elegant, thanks to their sleek and seamless surfaces.
Our top recommended products are;
Samsung SHP–DP728 Smart Digital Door Lock.
Kaadas K9 Smart Digital Door Lock.
Samsung SHP-DR708 Smart Digital Door Lock.
FAQs
What is a Digital Door Lock? 🔒
Digital locks are locks that don't need keys to unlock. Instead, it uses keypads, smart cards or biometrics for easy access.
What are the Benefits of Using a Digital Door Lock? 😌
Digital door locks offer fast access when going inside and out of a room, especially for offices where people would always enter a place.
Should I Get a Digital Door Lock?
For houses and offices, the digital door lock is recommended. It provides additional security for a room while also giving more convenience that key doors can't provide
What are the popular digital door locks in Malaysia?
For Malaysia, Yale and Samsung have been the front runners when it comes to digital door locks.